About lookatme.ae and LookAtMe Gulf Solutions
lookatme.ae is First B2B & B2C Business Network & Trusted Service Providers in UAE and Managed By Lookatme Gulf Solutions, Lookatme Gulf Solutions is a global IT services & online advertising marketing company headquartered in UAE with strong skilled management team. Lookatme Gulf Solutions includes providing technical services and consultancies with respect to information technology and applications like internet, internet and data warehousing to enhance the administrative and technical performance in different corporations. In addition to offering consultancies,digital marketing to involve proposing the adequate softwares and handling the surveys and studies to determine the appropriate technology consistent with the nature of the firm, these firms are not entitled to market or produce any of the softwares or products related to said technology.
Look At Me Team work closely with our clients to understand their business needs and the markets in which they operate inside-out. Along with helping shape our brand, we have been really happy with the consistent, strong look of our events, which has really pulled everything together. From invitations to posters, table plans to event programmers we would happily recommend LOOK@ME to create something special for your business and service.
we ensure that campaigns are based on your business objectives and reinforce the essence of your brand. Always talking to your team, we coordinate your marketing communications so that your image grows in the right way. We Will work directly with your team to ensure you have all of the support you need to implement, manage, and track your marketing efforts against your short- and long-term business goals.
As Shopify Experts, you can also rely on us for battle tested ecommerce marketing strategies and support, including Organic (SEO) Search and Paid (SEM) Marketing, Social Media, and Email Marketing.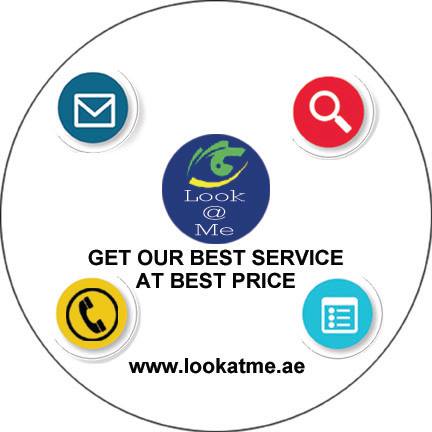 Lookatme's mission
Lookatme's mission is to enhance business communication by developing web applications and services utilizing Lookatme's technology. Initially, major goals are to provide application that enhance the Internet experience. The Internet itself does not drive the entire world of business, but it is a substantial place to start. Ultimately, the company intends to develop web application and through these to set the standard for the next generation of e-business software technologies.
Specifically in relation to the Internet, Lookatme plans to address the difficulties that e-business customers currently face. Lookatme's mission includes:
Manage UAE Shops and Business network
Improve Communication and Data Exchange (Business to Business)
Connect business People in UAE (Business to Consumer)
Help businesses reach worldwide audiences (Business to Consumer, Business to Business)
Enhance Internet communication by developing premium web application and services
We are providing digital marketing help to our clients to grow their business.
Guaranteed business enquiry
Our main aim is to grow the business in UAE and also providing every business/service owners having their own web space.
We promoting our customers through online/offline advertising medias.
Benefits Of Register Your Business With Us
1)Get your own LookAtMe Business profile Create lookatme Profile Now
2)Create your shopping cart
3)Create your Service profile or website
4)Add Your Business Details Like Logo,Images,Service etc
5)Get your own admin panel to manage your products or service
6)Add unlimted products or service
7)Get product or service enquiry from your customers
8)Get reach more customers all across UAE and worldwide audiences
9)Grow your business with lookatme.ae
10)Get benefits of our powerful marketing team
11)Google Map Page
12)Add Offers or Menu , brochure
14)Advertising & Social media marketing.
15) Email Marketing & SMS Marketing ,Fm Radio, Television ads
16) Guaranteed business enquiry